April 26th, 2022
Comments off
HGV Trailer Management With the aide automotive Trailer Lock For Stuart Nicol Transport Limited Of Shotts / Scotland.
Great to deal with Leanne Patterson and conclude this deal for 12 VOR Trailer HGV Locks.
A Trailer VOR Lock is easy to operate and install, a Trailer VOR Lock provides a quick, clean method to protect VOR trailers from being moved or returned to road duty.
Trailer VOR Lock, also known as Trailer Red Line locks provide a very simple and cost effect deterrent against opportunistic theft.
aide automotive on 0115 8456471 or info@aideautomotive.com Our product range – HGV Brake Testers – Caliper Pot Tester – Trailer EBS Testers – HGV Truck Trailer EBS / ABS Sensor Tester – Truck /Trailer Diagnostic Tools – Midtronics Battery Testers – Anti Siphon Devices – ISOCheck – Trailer Locks – Auto Braking Reversing System – HGV Diesel Tank Alarms – Plus More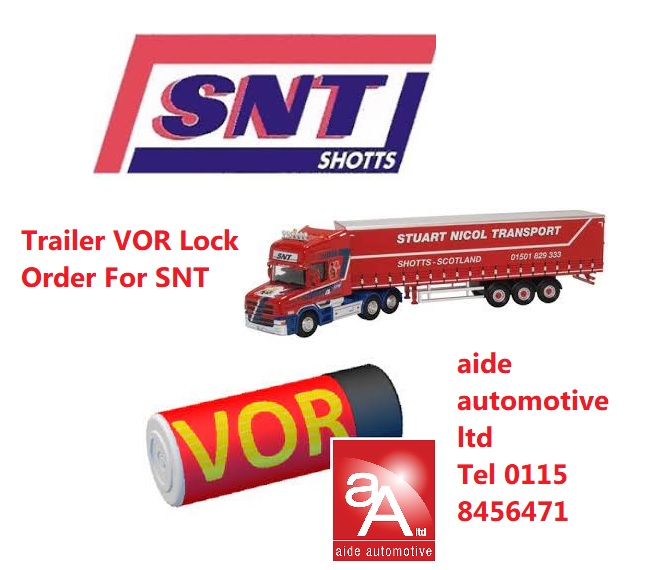 Categories:
Automotive Tools and Accessories
Aide Automotive, Automotive Products, Brake Check, brake tester, Commercial Vehicles, Diagnostic Tools, Drakefield, Drakefield DRA08, DVSA, EBS / ABS systems, Haldex, Knorr Bremse, Red Line Lock, Sensor Master, Susie Lock, Suzie Repair, trailer, trailer Brake Tester, Trailer Diagnostics, Trailer Lock, Trailer Management, Trailer Repairs, Truck ABS brakes, Truck Diagnostics, VOR, VOR Trailer, VOSA, Wabco