March 9th, 2022
Comments off
New Customer for Trailer & Caravan Light Tester – TestaTow – Off too Cedar Green's "Temporary Boiler Hire" trailer workshops!
Cedar Green offers nationwide temporary boiler hire, emergency commercial boiler services, providing emergency heating and hot water boilers for planned projects, emergency breakdowns, and disaster recovery.
TestaTow is a 12 Volt portable Trailer Wiring Tester for Trailers such as Farming / Agricultural trailers & the smaller road trailers such as Ifor Williams, Brian James, Bateson Trailers, Indespension Trailers & Horse Box Trailers.
Buy online The Trailer Light Tester – TestaTow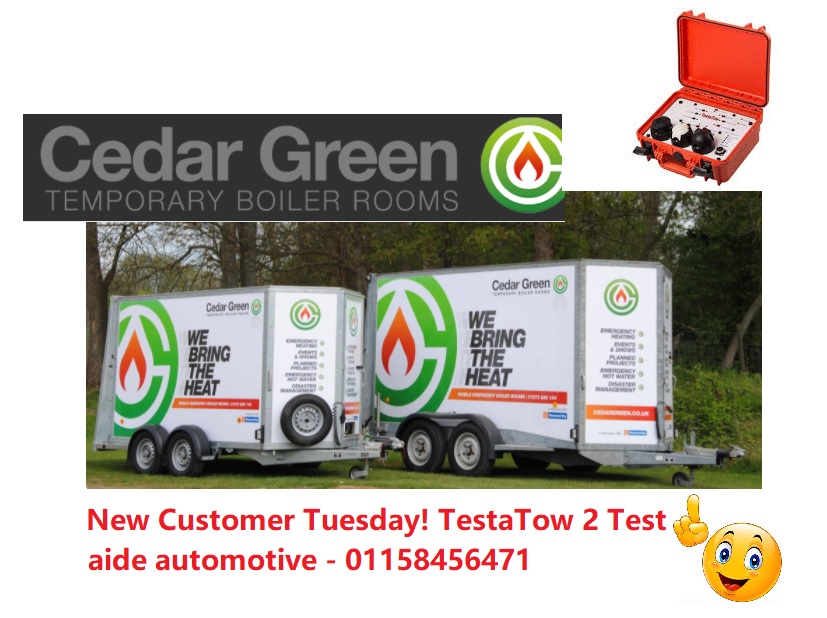 aide automotive on 0115 8456471 or info@aideautomotive.com Our product range – HGV Brake Testers – Caliper Pot Tester – Trailer EBS Testers – HGV Truck Trailer EBS / ABS Sensor Tester – Truck /Trailer Diagnostic Tools – Midtronics Battery Testers – Anti Siphon Devices – ISOCheck – Trailer Locks – Auto Braking Reversing System – HGV Diesel Tank Alarms – Plus More