HGV Brake Testers / Decelerometers !!
Busy Times @ aide automotive Here are just some of the BrakeCheck orders this month !
BrakeCheck Truck / HGV Brake Tester (BrakeCheck) is the latest aide automotive decelerometer to test commercial trucks , Buses Rigids & Mini Buses.
Read more below BrakeCheck is DVSA (VOSA) accepted for HGV inspection or 6 weekly testing.
The DVSA are continually advising operators, commercial repairers and in house workshops to complete regular inspection sheet brake test. The BrakeCheck is the tester!
aide automotive on 0115 8456471 or info@aideautomotive.com Our product range – HGV Brake Testers – Caliper Pot Tester – Trailer EBS Testers – HGV Truck Trailer EBS / ABS Sensor Tester – Truck /Trailer Diagnostic Tools – Midtronics Battery Testers – Anti Siphon Devices – ISOCheck – Trailer Locks – Auto Braking Reversing System – HGV Diesel Tank Alarms – Plus More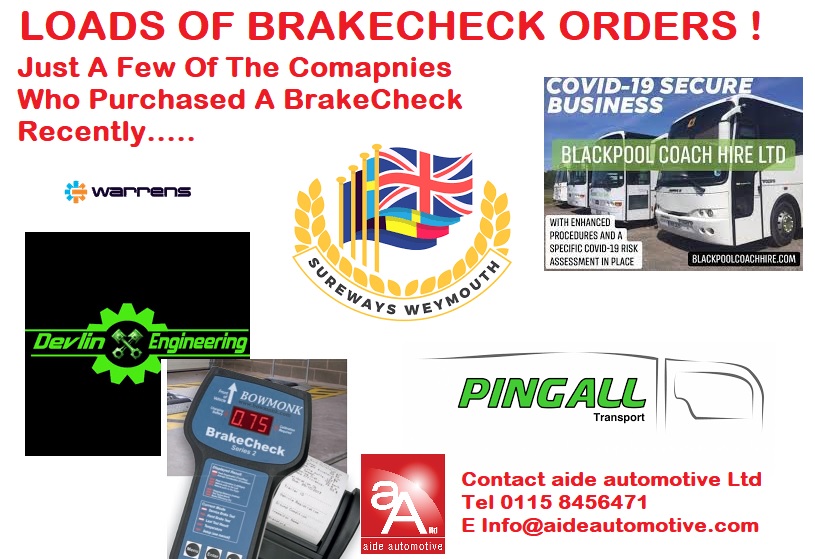 Categories:
Automotive Tools and Accessories
abs, ABS Faults, ABS Trailer Tester, Agri, Agricultural, Aide Automotive, Anti Fuel Theft Device, Anti Siphon, Automotive Products, Brake Check, Brake Lights, brake tester, Diagnostic Tools, Diesel Theft, EBS / ABS systems, Farming, faulty brakes, Fuel Alarm, Fuel Defend, Fuel Theft, FuelDefend, Haldex, Haulage, HGV, ISO 7638, ISOCheck, Knorr Bremse, Logistics, Police, Prevention, siphoning, stolen, Tank, TankGuard, TestaTow, Tiss, Tractors, trailer, trailer Brake Tester, Trailer Diagnostics, Trailer ECU, Trailer Repairs, Trailer Reversing, TrailerCheck, Transport, Truck, Truck ABS brakes, Wabco, Warning Light