Commercial Vehicle Recovery Company Invest In BrakeCheck
Latest HGV Operator to Purchase a BrakeCheck HGV Brake Tester / Decelerometer, is…..
BDV Recovery Of Scunthorpe!!
Formed in the year of 2000, BDV became a premier supplier of Breakdown Recovery Services to the Highway Construction Industry for small/medium road works and major road construction schemes
Great to supply another Truck Brake Tester to the industry, aide automotive have now sold many testers into the UK HGV Repair & Recovery sector.
The DVSA Recommended and say "You should get your HGV or trailer's brakes tested by a roller brake tester ( RBT ) or a calibrated decelerometer at least 4 times per year, including at the MOT."
Call aide automotive to discuss brake testing and how to utilise a decelerometer for a haulage operation.
aide automotive on 0115 8456471 or info@aideautomotive.com Our product range – HGV Brake Testers – Caliper Pot Tester – Trailer EBS Testers – HGV Truck Trailer EBS / ABS Sensor Tester – Truck /Trailer Diagnostic Tools – Midtronics Battery Testers – Anti Siphon Devices – ISOCheck – Trailer Locks – Auto Braking Reversing System – HGV Diesel Tank Alarms – Plus More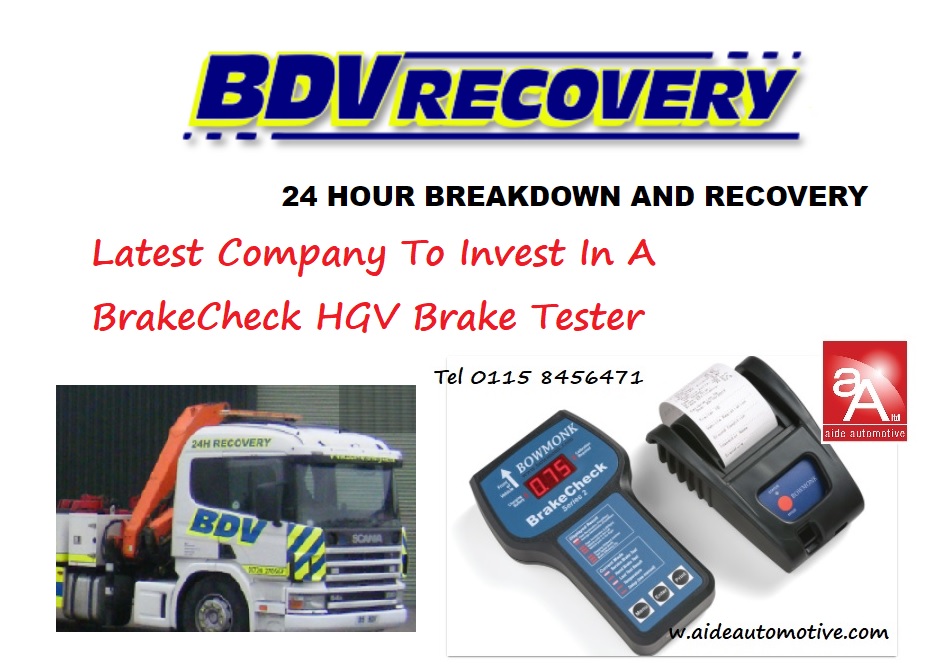 Categories:
Automotive Tools and Accessories
abs, ABS Faults, ABS Trailer Tester, Agri, Agricultural, Aide Automotive, Anti Fuel Theft Device, Anti Siphon, Automotive Products, bowmonk, Brake Check, Brake Lights, brake tester, Diagnostic Tools, Diesel Theft, EBS / ABS systems, Farming, faulty brakes, Fuel Alarm, Fuel Defend, Fuel Theft, FuelDefend, Haldex, Haulage, HGV, ISO 7638, ISOCheck, Knorr Bremse, Logistics, Police, Prevention, siphoning, stolen, Tank, TankGuard, TestaTow, Tiss, Tractors, trailer, trailer Brake Tester, Trailer Diagnostics, Trailer ECU, Trailer Repairs, Trailer Reversing, TrailerCheck, Transport, Truck, Truck ABS brakes, Wabco