Construction Plant / Quarry Reversing Braking Safety
Off road Plant Safety Reversing Proximity Radar !
aide automotive featured in the Truck & Bus Product Focus again.
As well as this product suitable for Off Road Loading Shovels & Dump Trucks, On road vehicles are easily suited.
CV Stop Auto Braking Reversing System for Off-Road Plant
A serious incident and injury would have been prevented if the Auto Braking system had been fitted to an off-road loading shovel.
A waste management and skip hire company has been fined after a worker suffered multiple injuries when he was struck by a reversing vehicle.
Read More –https://local.google.com/place?id=13048661891554098570&use=posts&lpsid=CIHM0ogKEICAgIDG8oSkqwE
aide automotive on 0115 8456471 or info@aideautomotive.com Our product range – HGV Brake Testers – Caliper Pot Tester – Trailer EBS Testers – HGV Truck Trailer EBS / ABS Sensor Tester – Truck /Trailer Diagnostic Tools – Midtronics Battery Testers – Anti Siphon Devices – ISOCheck – Trailer Locks – Auto Braking Reversing System – HGV Diesel Tank Alarms – Plus More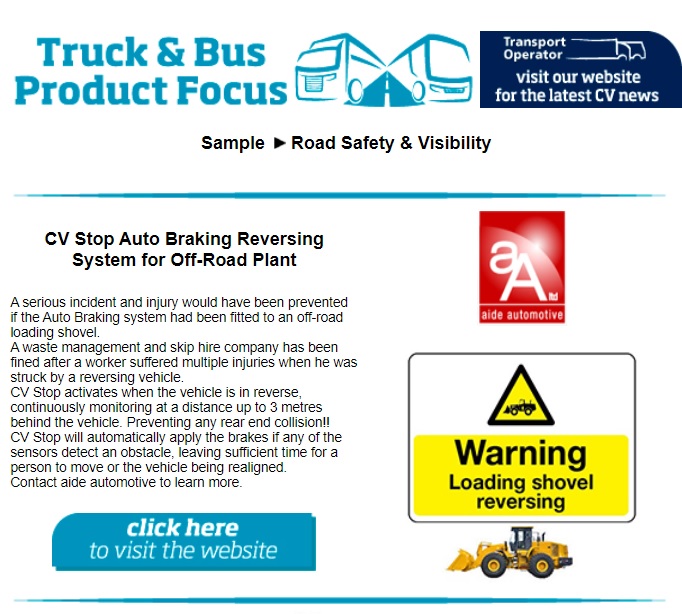 Categories:
Automotive Tools and Accessories
Accident, Aide Automotive, Auto Braking System, Automotive Products, Back Stop, brake tester, Collison Avoidance, Crash For Cash, Damage, DVSA, HGV, Mobile Plant, Prevention, Proximity, Radar, Reversing, Road Sweeper, Safety Products, trailer, Trailer Reversing, Truck ABS brakes, Truck Reversing