Commercial Vehicle Diagnostic Brake Tester "Sensor Master"
Following on from Charlotte Bradley Transport returning to purchase the Great Commercial Vehicle Diagnostic Brake Tester "Sensor Master"
We also service & repair the tester here at aide automotive !!
CBT sent in old and very used testers for a repair / service and inspection to get as close to new as possible.
News just inn ! Kent Service Group Have just Purchased a New Kit… 🤩
The Sensor Master is a #truck, #trailer, #bus or #coach sensor tester for GAP & #Exciter Ring Testing. The #Sensor Master is an easy to use device which will confirm each EBS or ABS sensor is operational.
aide automotive on 0115 8456471 or info@aideautomotive.com Our product range – HGV Brake Testers – Caliper Pot Tester – Trailer EBS Testers – HGV Truck Trailer EBS / ABS Sensor Tester – Truck /Trailer Diagnostic Tools – Midtronics Battery Testers – Anti Siphon Devices – ISOCheck – Trailer Locks – Auto Braking Reversing System – HGV Diesel Tank Alarms – Plus More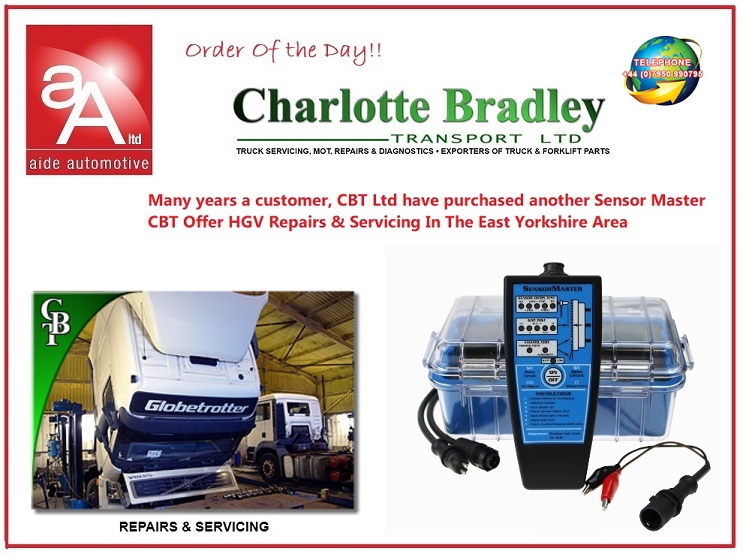 Categories:
Automotive Tools and Accessories
Aide Automotive, Anti Fuel Theft Device, Anti Siphon, Automotive Products, Diesel Theft, Fuel Alarm, Fuel Defend, Fuel Theft, FuelDefend, Haulage, HGV, Logistics, Police, Prevention, siphoning, stolen, Tank, TankGuard, Tiss, Transport, Truck, Truck ABS brakes