#Commercial #Vehicle Fuel Protection
Returning Customer John Povey Haulage To Prevent Fuel Theft
John Povey Haulage have been a aide automotive customer for many years regularly buying HGV Anti Siphons.
Returning a comment "Good quality bought before !"
FuelKeep is a highly effective but low cost anti siphon device for the high volume large tank market.
FuelKeep is a similar design to TP Anti Syph and is available for vehicles with 105 mm external diameter and 80mm internal tank inlets.
• Low cost – high value
• High strength steel
• Quick & easy permanent fit
• High fuel flow
• External/internal devices
• Extensive range of models
Typical vehicles that this Anti Siphon will fit are:
Volvo, Foden, DAF, Mercedes, MAN, Renault & Iveco.
FuelKeep is quickly fitted to the tank with no drilling or gluing and has been tested to refill up to 120 litres per minute, devices work with OEM fuel caps.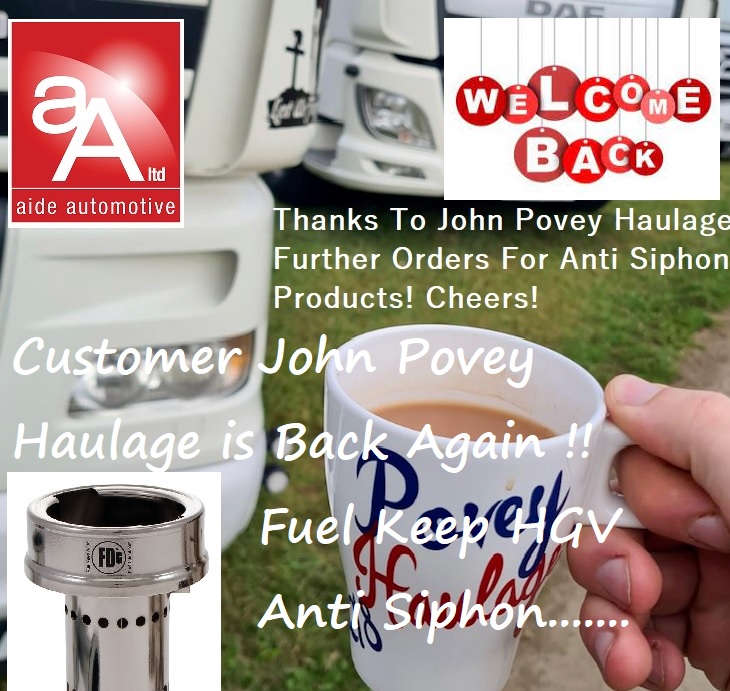 Contact aide automotive on 0115 8456471 or info@aideautomotive.com Our product range – HGV Brake Testers – Trailer EBS Testers – HGV Truck Trailer EBS / ABS Sensor Tester – Truck /Trailer Diagnostic Tools – Midtronics Battery Testers – Anti Siphon Devices – ISOCheck – Trailer Locks – Auto Braking Reversing System – HGV Diesel Tank Alarms – HGV Siphon    Truck Susie Coil Covers Plus More
Categories:
Automotive Tools and Accessories
abs, ABS Faults, ABS Trailer Tester, Agri, Agricultural, Aide Automotive, Anti Fuel Theft Device, Anti Siphon, Automotive Products, Brake Check, Brake Lights, brake tester, Diagnostic Tools, Diesel Theft, EBS / ABS systems, Farming, faulty brakes, Fuel Alarm, Fuel Defend, Fuel Theft, FuelDefend, Haldex, Haulage, HGV, ISO 7638, ISOCheck, Knorr Bremse, Logistics, Police, Prevention, siphoning, stolen, Tank, TankGuard, TestaTow, Tiss, Tractors, trailer, trailer Brake Tester, Trailer Diagnostics, Trailer ECU, Trailer Repairs, Trailer Reversing, TrailerCheck, Transport, Truck, Truck ABS brakes, Wabco, Warning Light